Dear Friends and Future Karate Students!
Thank you for visiting us at the Official Website for the Karate Quest Dojo! Our facility in Port Jervis, NY (located at 78 Front St., Ste. 74 B in the Riverwalk Plaza) has been serving the local area since 2011. We teach the martial arts to men, women and children ages 5 and over.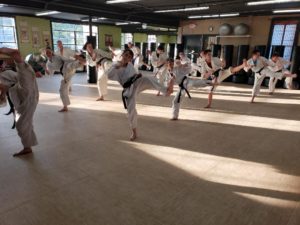 We specialize in working with people who have little or no experience in the martial arts and have a nice way of introducing the etiquette and techniques involved with learning the martial arts. The benefits of training in the martial arts include…
Self-Confidence
Self-Esteem
Leadership Skills
Weight Loss and Control
Skills of Personal Discipline
Good Health and Fitness
Increased Energy
Practical Self-Defense Skills and Stratgies
Improved Ability to Communicate Clearly and Effectively
Family Closeness…for Couples…or Parents Training with Children
…and Lots of Fun in an Environment that will Challenge You!
We also have advanced training programs for those who have studied the martial arts before and are interested in developing high levels of ability and personal growth. Our dojo (training hall) primarily practices Okinawa Goju-Ryu Karate-Do, a martial art considered practical and highly effective for self-defense. At the advanced levels students may be invited to practice Ryukyu Kobudo ("Ancient Martial Way"), the weapons martial art from Okinawa (weapons practiced include the bo, sai, tonfa, nunchaku, kama and eku).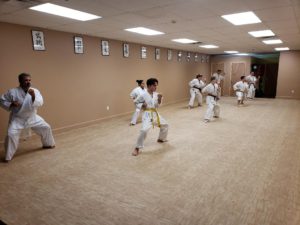 The teaching staff is led by Glenn Finke, who became a martial arts student in 1979 and has been a full-time martial arts instructor since 1994. In addition to winning numerous awards in state, national and international tournament competition Mr. Finke has traveled to Okinawa ("The Birthplace of Karate") to train with world-class teachers as well as research the history and culture that shaped the art. The other teachers at both dojo have a minimum of ten years of training experience and bring their own experiences to help in the development and growth of the Karate Quest Dojo students.
Our dojo features:
Fully Matted Safety Training Floors suitable for all types of Martial Arts Training.
Great Locations with Plenty of Parking.
A Large Amount of Traditional and Contemporary Martial Arts Training Equipment.
Flexible Class Schedule.
Excellent Climate Control.
Private Individual Changing Rooms.
Martial Arts Pro-Shop.
Plenty of Seating for Parents and Guests to Watch Classes.
Thank you for reading. See you in class!